Implications to Rippling Customers
President Trump has signed emergency legislation called the Families First Coronavirus Response Act (FFCRA). This is intended to support families and businesses in response to the novel coronavirus, aka COVID-19, pandemic.
There are lots of detailed articles, including this IRS guidance, covering FFCRA in its entirety. The items below are summarized implications for Rippling customers:
Employers with less than 500 employees* will be required to provide expanded paid sick leave and paid family leave under the bill for eligible employees
Employers will be entitled to a fully refundable tax credit** equal to 100% of

qualifying

paid sick leave and/or 100% of

qualifying

paid emergency leave, to be paid each quarter.
The bill goes into effect on 4/1/2020 and expires on 12/31/2020
*The Secretary of Labor has the authority to issue additional regulations on paid sick leave and family leave, and may exempt certain small businesses with fewer than 50 employees from some of these requirements.
**Guidance has not yet been finalized on how employers will obtain these tax credits, so we recommend maintaining good records.
FFCRA Notification Requirements
Starting April 1, 2020, through December 31, 2020, employers subject to the FFCRA (typically employers with less than 500 employees) will need to notify all U.S. employees of their enhanced paid sick and family leave rights under the FFCRA. The grace period for enforcement is 30 days (or May 1, 2020). For more information on these requirements, we recommend reviewing the Department of Labor's update and their FFCRA poster here.
Because many employees are working remotely, many employers have chosen to distribute the workplace poster electronically, and Rippling customers can do so by using our Notices feature. For more information on how to utilize Notices for your FFCRA notifications please click here.
How can Rippling help you manage this?
Step 1 – Policy Management
All customers will receive access to two incremental leave types: 1) Emergency Sick Leave and 2) Emergency Family Leave. Customers must confirm their eligibility through Payroll –> Settings –> Covid-19 Features tabs: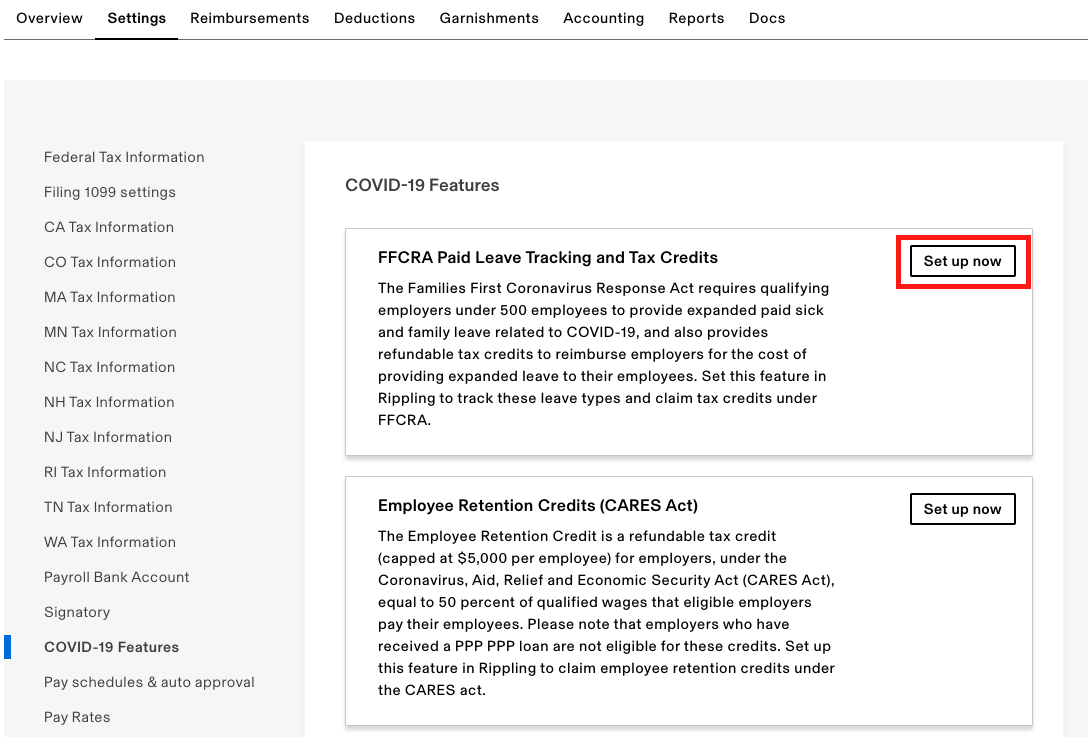 Upon confirming, these policies will be listed in your policies list, with balances active as of 4/1. You will need to edit to add employees to the policy but all other configuration for these policies will be restricted*. These policies will automatically be marked as confidential and will follow the leave stipulations as determined by the FFCRA – see the summary of stipulations below for more details.

*Admins will have the ability to adjust balances for part-time employees, but by default, all employees will receive the same balance of 80 hours.
Step 2 – Payroll and Credit Management
Admins or employees can directly make requests for time off against the policies and, once approved, the time will sync directly into a pay run and appear as a unique pay type (i.e. Sick leave and Family leave will appear in addition to the traditional PTO Hours pay types). These pay types will automatically manage the amount paid to employees and tax credit* in your filings per the stipulations of the FFCRA – see the summary of stipulations below for more details.
*The credits from the run (as well as any surplus credits from previous runs) will automatically be applied to max out credit utilization for offsetting IRS taxes in the current run.
We have written this article on how to pay your employees their full salary, and have written this article to guide you through creating incremental leave types if you wish to manage this manually. Further you can utilize the Time Off Request Report feature or the Time Off Paid Report to pull this information directly for your tracking and record keeping.
Summary of Leave stipulations in FFCRA
Sick Leave:

Applicable to all employees

10 days of paid leave for FT employees and pro-rated paid leave for PT employees. 

Personal:

when the employee is directly impacted by quarantine orders and experiencing illness symptoms

Credit

is capped at max of either i) 100% of employee rate or ii) $511/day for a total credit of $5,110

Carers'

: when the employee is caring for others impacted by quarantine 

Credit

is capped at max of either i) 67% of employee rate or ii) $200/day for a total credit of $2,000

Total sick Leave (in any combination self vs other) cannot exceed 10 days
Family Leave:

 

Applicable to employees who have been employed > 30 days

50 days of additional paid leave for FT employees and pro-rated paid leave for PT employees.

To care for a child whose school or child care provider is closed or unavailable for reasons related to COVID-19

Credit

is capped at max of either i) 67% of employee rate or ii) $200/day for a total credit of $10,000
Request documentation per FFCRA
Receive a written request for leave from the employee in which the employee provides:
The employee's name;
The date or dates for which leave is requested;
A statement of the COVID-19 related reason the employee is requesting leave and written support for such reason; and
A statement that the employee is unable to work, including by means of telework, for such reason.
1 and 2 are tracked for all leave requests made in Rippling, 3, and 4 must be added into the "Reason of Leave" comment box. Please refer to IRS FAQs for more comprehensive guidance.