If you just became an admin in Rippling, this article's for you! We've structured this article to help you get up to speed with some of Rippling's basic functions, and highlight some of the key concepts that will influence the amount of time savings you'll get from Rippling products. 
It doesn't end here though! Our help center contains detailed and in-depth articles on all of the functions mentioned below. You can think of this as an introduction, and utilize additional help center articles to go a layer deeper. 
Lastly we've included call to action sections throughout this article. Take note when you see a shaded box, these will contain tips and recommended actions for you to takeaway and implement. 
Navigating the admin dashboard and App Shop
Admins have access to both an "employee" and "admin" Rippling account, which can be toggled between by clicking on your profile image in the upper right-hand corner of your screen. 
There are a few sections of the admin dashboard to familiarize yourself with. On the left-hand pane is the main menu, where you'll find all your company level actions and settings , like hiring an employee, creating a report, or viewing the company directory.
Front and center on the admin dashboard are your to-do's. These tasks can take the form of system automated reminders, as well as tasks that have been configured (by another admin) as part of a new hire or offboarding checklist. 
Below your to-do list you'll find your company apps. While Rippling handles basic automations like adding your new hires to payroll and prorating their first check, we also automate less obvious things, like getting every new sales rep access to Salesforce, GSuite and Zoom, so that they are equipped for work on their first day. Because of this, you'll see both Rippling branded services like Payroll, Insurance, and Hardware at the top of the company apps section, as well as non-Rippling (3rd party) connected apps at the bottom. 
Rippling automates actions for hundreds of business applications, so odds are that the majority of apps your employees use each day have some level of integration with Rippling. It's always a good idea to audit whether you're fully utilizing the full suite of integrations available, as it won't only speed up your hiring process, it will also enable you to keep company information safe by automatically removing access when employees part with your company.
To access the full suite of 3rd party integrations available, you can head to the "App Shop" listed in the main menu of the dashboard. The App Shop contains a library of all applications Rippling has out-of-the-box integrations with, and details the integration's functionality. Some integrations might simply allow you to automate account creation and deactivation, while others, like Brex, can help you automate issuing of corporate cards to new hires or new managers, with a limit pre-set based on the employee's level within the company. To add a new integration, you'll click "connect account" in the App Shop, and you'll be taken through the installation flow – this process is easy and can typically be done in just a few minutes. To find an app, you can browse either by category or via the search bar.
While you need to be subscribed to Rippling's Apps & Access package to have access to the entire library of supported integrations, every Rippling customer gets access to several core HR integrations free of charge. If you aren't already integrating services like email, background checks, applicant tracking, time and attendance, payroll reporting, 401k, and workers comp, head over to our App Shop to begin the setup!

You'll be asked for admin credentials for whatever app you are installing so make sure you have those upfront, otherwise you can invite the admin of the application to install the integration instead.
Smart Rules
: Your Rippling superpower
Smart Rules are THE most important feature in Rippling. Used properly, they 10x your experience with Rippling. Your current setup of Smart Rules will have a big impact on how much value you get out of them, so we want to take a moment to explain how they work.
In Rippling, everything — from benefits assignment, to app access, to device ordering — is automated via Smart Rules based on employee attributes (or "tags") like team, location, and employment type. This automation applies when employees are hired, and beyond. 
Here's an example, say you want to choose who should automatically get an account with Salesforce when they join the company, you might setup a Smart Rule like this:

When attributes change, everything updates
When an attribute changes, that employee's configuration changes in Rippling, automatically. So, if someone from Engineering moves to Sales, they'll get removed from things like Github and the Engineering Gmail group, and added to Salesforce and the sales Gmail group.
What about attributes that Rippling doesn't capture by default?
You aren't limited to attributes like department and location, custom fields are a powerful way to extend Rippling, and customize it for your own purposes. Once you add custom fields, you can leverage them in Smart Rules across Rippling. To learn more about custom fields, visit the custom fields article. 
Call to Action: Because Smart Rules are used across the platform, it's a good idea to get familiar with where they appear, and double check that they are set up properly. Below are a few places you'll see Smart Rules in action.

– Payroll: adding employees to the correct pay schedules

– PTO: adding employees to the proper PTO policies

– Documents: determining who sees a static doc when they onboard

– 3rd Party Apps: Defining access to 3rd party apps

– Insurance: Indicating the contribution scheme employees are part of (if you have different contribution schemes).

– Custom Fields: determining which employees a custom field applies to

– Tasks: indicating which employee group a checklist should apply to
Company Details and Company Settings 
Company Details
The Company Details section houses all your basic company information, and specifically, the way in which your company has decided to organize and classify your employees. Work locations, department structure, and levels can all be accessed and updated through the Company Details page. As mentioned in the "Smart Rules" section above, these employee categories are used to automate processes, so it's important to ensure they stay up to date. You can double check your setup and learn more about adding Teams and Levels (if you haven't already) in our Teams article here.
Company Settings
The Company Settings section is where you'll find general account settings like billing, invoices, administrator permissions and notifications. It's also the place where you can configure and customize your onboarding, for example, indicating what information is getting collected from new hires, which new hires are required to complete an I9 (and the employees responsible for verifying I9s), which offer letters and agreements are available for sending out in onboarding and offboarding flows.  
Onboarding and Offboarding: What to do before clicking "hire"
Onboarding Basics
With Rippling, you can onboard a new employee in just 90 seconds. It's what happens after you click "hire employee" that creates real efficiencies, however. 
Rippling will handle tasks like:
Sending the employee their offer letter, and collecting signature through a native e-signature app

Collecting new hire details and banking info so that they can be added automatically to payroll with a prorated first check

Filling out I9s, and getting new hire withholding information

Allowing the new hire to select benefits and produce enrollment forms

Setting the new hire up with access to their email, Slack, Zoom, and any 3rd party apps they'll need to do their job

Adding them to the company org chart in Rippling

Delivering their laptop to your office in time for their first day of work (with all needed applications pre-installed)
What to do before you click "hire"
Before you start onboarding and offboarding any employees in Rippling, there are a few key Rippling apps that you should familiarize yourself with, specifically Documents, Custom Fields, and Tasks. Setting up these three apps correctly will greatly improve your overall experience with running onboarding and offboarding in Rippling.
When you hire or terminate an employee you'll be asked to select either an offer or severance template to extend to the employee. These templates are customizable by you, and can be managed and edited from within the Documents app in Rippling. You may find that there are "other agreements" outside of offer letters and severance agreements that you need to deliver to employees. These types of documents can also be added in the templates section within the Documents app. "Agreement templates" have the benefit of being specific to the employee, meaning you can insert variable fields like "Employee Name", "Salary", and "Start Date", and have Rippling auto-fill these fields based on the employee information you've entered. Additionally, "static documents" that aren't customized on a per employee basis (something like an Employee Handbook) can also be set up in the Documents app, and automatically added to the onboarding flow of any new hire. You may also find that "New Hire Email Template" needs to be updated, this can be done from the document templates page as well.
Call to Action: Review your current document templates, and static docs. Review the Smart Rules associated with your static docs for accuracy. Click here to navigate directly to your document templates page.
If you need to track or report on any employee info that is not captured by default, Custom Fields are a flexible way to accomplish this. Not only can you set up Custom Fields so that new hires are prompted to input info during the typical onboarding flow, you can also create a field for Rippling Admins or Hiring Managers to input information. All this data can then be reported on, tracked, and used in Smart Rules throughout the system. 
Call to Action: Take a look at what Custom Fields are already being captured by clicking on the Custom Fields app on your main dashboard – or by clicking here. If the Custom Field app isn't already installed, you can install it from the App Shop and begin customizing your new hire experience immediately!
At Rippling our goal is to automate away as much busy work as possible, however there are some tasks that we can't take care of for you (not yet at least!). Things like setting up your new hire's desk on their first day, handing them a parking pass, or taking them out to lunch their first week. In Rippling's Tasks app, you can set up onboarding and offboarding checklists that get assigned by event based triggers like 'accepting an offer', a new hire 'start date' or 'end date'. Whether there are tasks you need to remember to complete, or something that someone else at your company normally does, these can be configured in the tasks app so that you and your team never miss a beat! 
Call to Action: Head over to the Tasks app by clicking on "tasks" in the main menu, and take a look at what checklists have already been setup. Experiment with creating a new checklist and determining which types of employees it applies to, and which person at your company needs to be assigned. Click here to access your Tasks App directly.
3rd Party Integrations
One of the unique things about Rippling, is that we automate actions in hundreds of 3rd party applications with Smart Rules. We're constantly building more automations to better enable customers like you! A connected app is only as good as it's setup, so we'll mainly focus here on how to ensure your 3rd party apps are configured to drive the most benefit. Before we jump in, it's important to note that not all integrations are created equal. While Rippling will typically build the deepest integration possible, based on the APIs available, not all apps are able to automate the same level of actions – Rippling's App Shop clearly outlines the functions available for a given integration.
When you click into an integrated app on your dashboard you'll typically have a few options available, let's use GSuite as an example.

Rippling's GSuite integration supports single sign-on, creating accounts, removing accounts, and managing groups. When you click into the Gsuite app, you'll see the following navigating menu: Overview, Groups, Matches, Access Rules, Setups, Activity, and Settings. Let's dive into Access Rules, Settings, and Groups, since reviewing how these three pages are setup will be the quickest way to level set on the configuration, and ensure it's properly tailored to your business needs. 
Determining who gets an account, and when
Access Rules is where you define which new hires will get a GSuite account. You can select from some very high level options like "Everyone including 1099 contractors" or "Everyone except 1099 contractors". For GSuite, a rule like that might make perfect sense, but for applications that need more restricted access, your best bet will be to select "Set up rules for which new hires should get an account". This will allow you to granularly filter access to only those new hires that fall into a specific employment type, work location, department, or team. When we talked about "Smart Rules" above, this is where we put Smart Rules to work.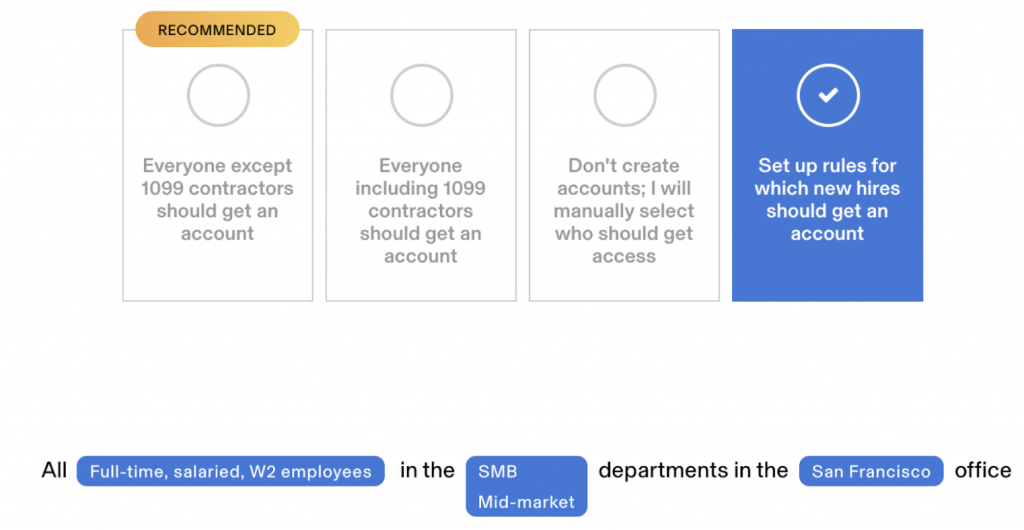 Another important aspect of automating account creations for new hires, is determining when the account gets created. To see what's already set up in this regard, head over to the Settings page and select "access time". From here you can choose from a variety of options, but by far the most common is to set up accounts to be created on a new hire's "start date, not before". 
If you have a one-off exception, like someone joining sales that doesn't need access to Salesforce? Don't worry, you'll be able to add or remove relevant apps during hiring. Simply uncheck any unneeded apps during the hiring flow to overwrite the pre-configured rule.
Managing groups
Creating an account is one thing, but what about getting access to the right department specific email aliases, or Slack channels, or Asana teams? There are better things to spend time on than tracking down the Gmail admin your first week in a new role. Luckily for apps that support managing groups (be it a team, an alias, a channel, a license type), Rippling can automate this for you. 
Rippling will pull in any aliases and the names of employees that belong to that alias into the "Groups" page. The same employee attributes and "Smart Rules" apply here, you can add the "sales department" to the sales@yourcompany.com alias and each new rep will get added to the alias when they are hired, or move from another department into sales. We recommend leaving any pre-existing employee names in the groups box, so that their access to the alias is uninterrupted.
Call to Action: Review the "Access Rules" and "Access Time", and "Groups" settings for each of your 3rd party apps. You may notice that there are updates that need to be made, or improvements that you can put into play, for example if any apps are set to "Don't create accounts; I will manually select who should get access" the 2 minutes you spend to create a smart rule today, could save your team time for every new hire you bring on.
For more information on app automations in Rippling, head over to the 3rd party apps help center articles.
What's next?
If you have further questions or encounter any issues along the way, our support team can be contacted at support@rippling.com. 
We'd also encourage you to visit other articles within our help center (help.rippling.com) as well as our weekly webinar series. Our help center and webinars cover a wide range of topics, from running payroll, to managing flex benefits, to setting up Hardware, and much more!