What is the Rippling App Shop?
The Rippling App Shop showcases Rippling's integrated applications. Rippling customers download their third-party applications and identify providers within various service segments, such as Collaboration or Office Management. Rippling partners have the opportunity to take advantage of co-marketing opportunities and leverage the App Shop to reach new prospects.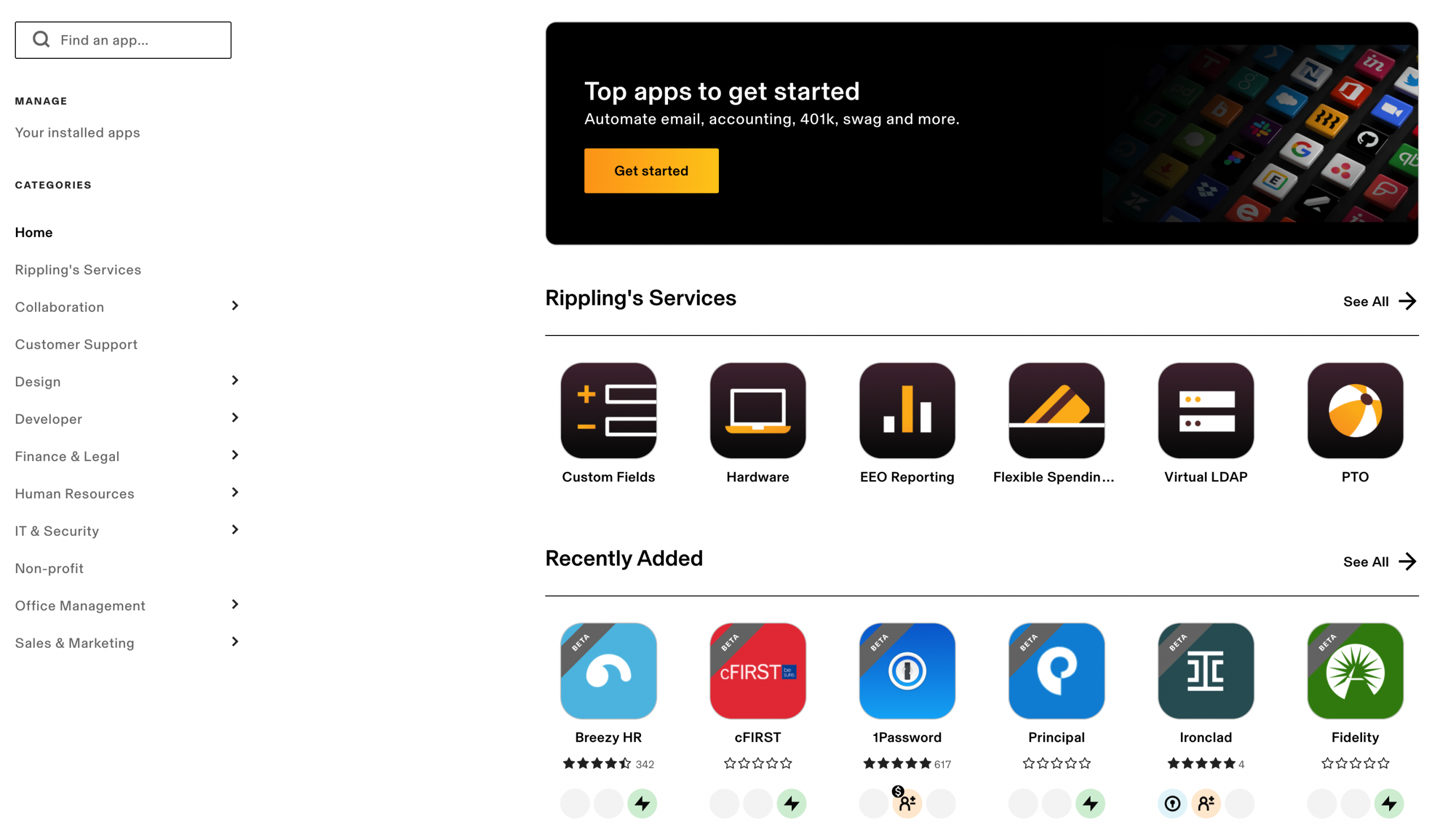 Who uses the Rippling App Shop?
The Rippling App Shop is used by a wide span of roles, ranging from HR & IT directors, to founders, to employees. The Rippling App Shop is available for viewing on the public web and is accessible by just about anyone.
Rippling Admins
Rippling Admins come to the App Shop to set up their applications with Rippling. By selecting and installing App Shop applications, Rippling Admins can enable their employees to gain access to their applications at various times. Rippling Admins leverage the App Shop for their previously existing services, but can also rely on the App Shop to discover and explore new services and special offers just for Rippling customers.
Rippling Ecosystem Employees
Employees of companies within the Rippling ecosystem can explore and request new services from the App Shop. Please note, the company admins must enable company requests for new applications either as the default choice for your organization or specifically to the application.
How to Navigate the Rippling App Shop?
The App Shop provides for quick searching to your used applications as well as the ability to browser service segment catalogues.
Your Installed Apps
Rippling provides a quick view of your installed applications, so that you can better manage your organization's services providers. Your installed apps will provide you with immediate oversight over the Rippling applications connected to your account as well as the third-party integrations that you have installed.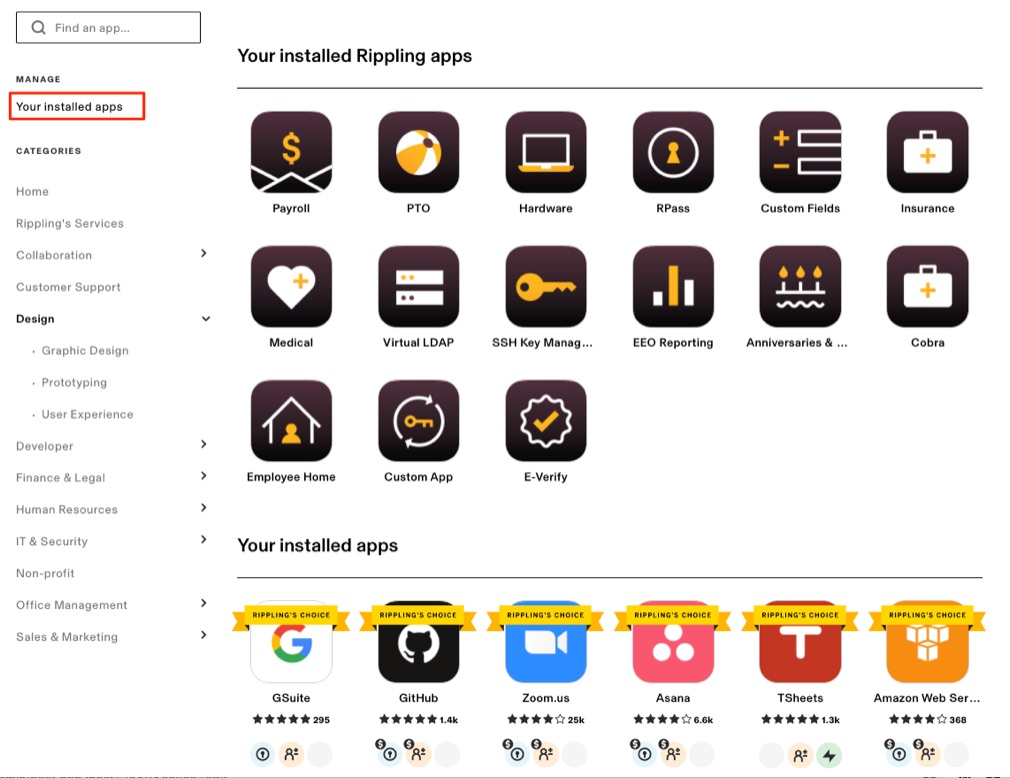 Rippling's Services
Apart from integration with third-party applications, Rippling offers a selection of natively built apps that integrate seamlessly with your Rippling organization.
Recently Added
Our Apps team is constantly working to bring you new integrations with third-party applications. This section will show recently added applications, so that you're constantly up-to-date with Rippling's new releases.
App Categories
When exploring new applications you can filter your search by categories and subcategories of segmented services to explore. Rippling partners with application services within various App Shop categories to provide enhanced user experiences and exclusive promotions for Rippling customers.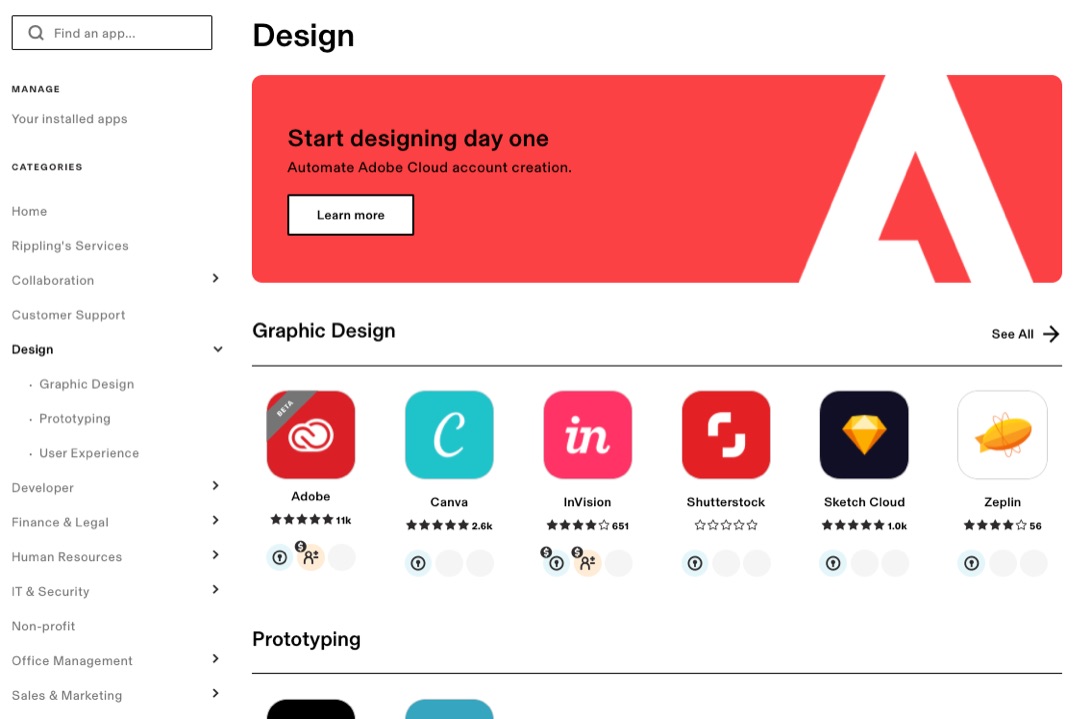 What's a typical Rippling app profile page?
Rippling's app profile pages allow for in-depth views of a Rippling integration as well as general information regarding the third-party application.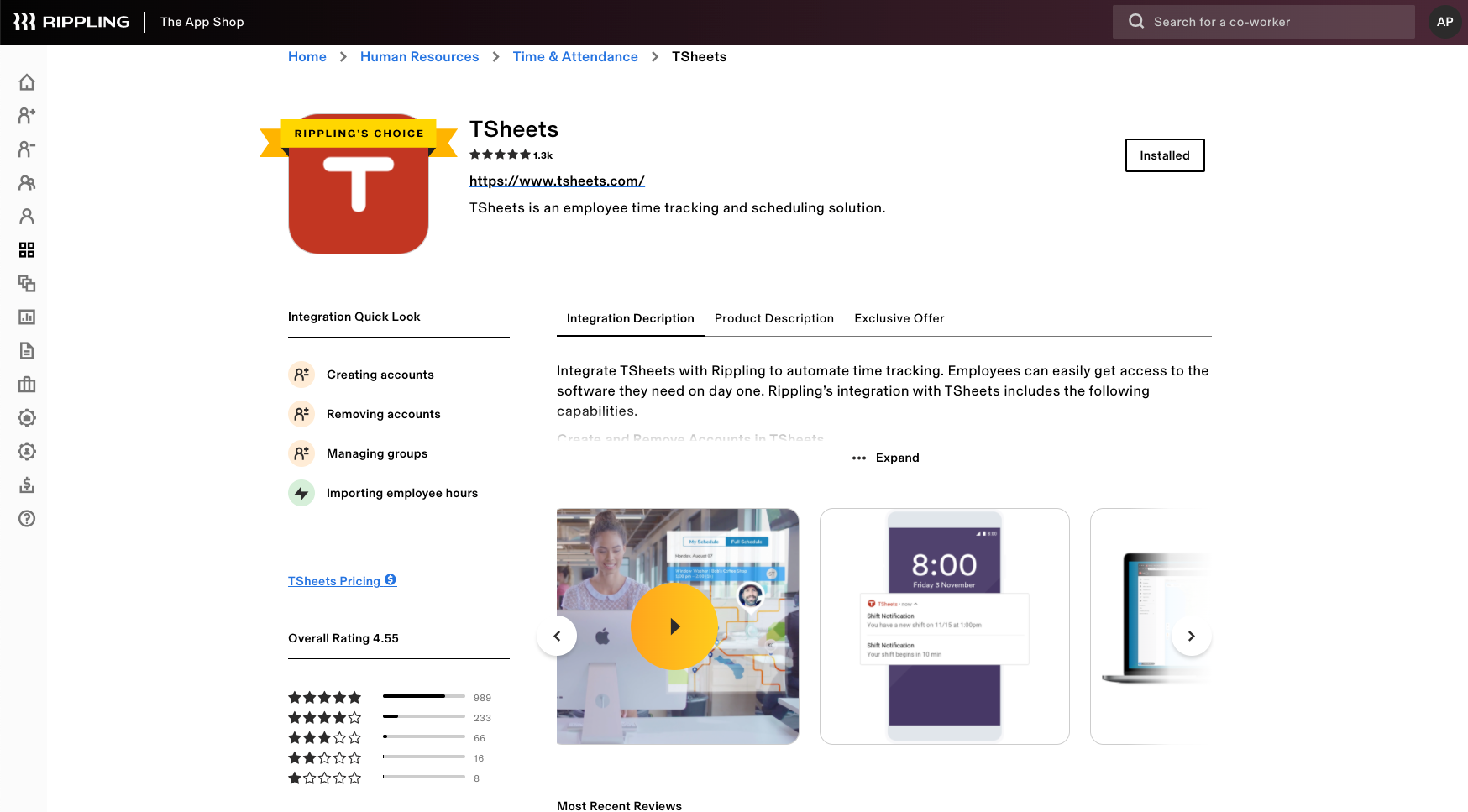 Integration Quick Look
The integration quick look provides App Shop users with an easy-to-digest, summarized view of the integration.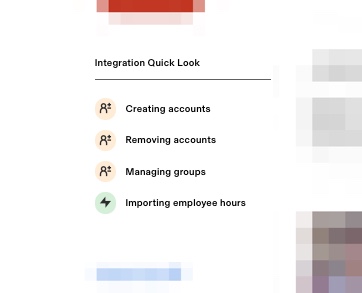 Integration Description
The integration description provides more detail on how the application is connected to Rippling and what protocols are used in the integration. For instance, whether SAML is used for the application's single sign-on capabilities or if account provisioning is enabled through Just-in-Time provisioning.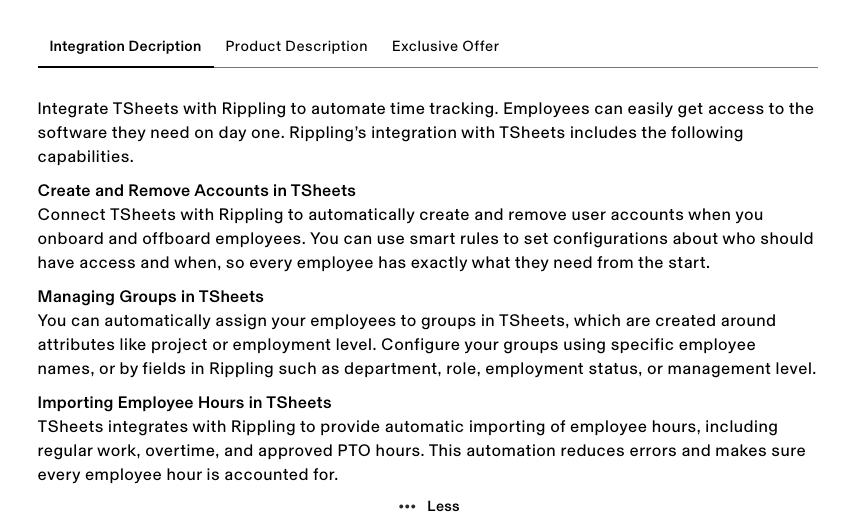 Product Description
The product description details the application's services and product offerings.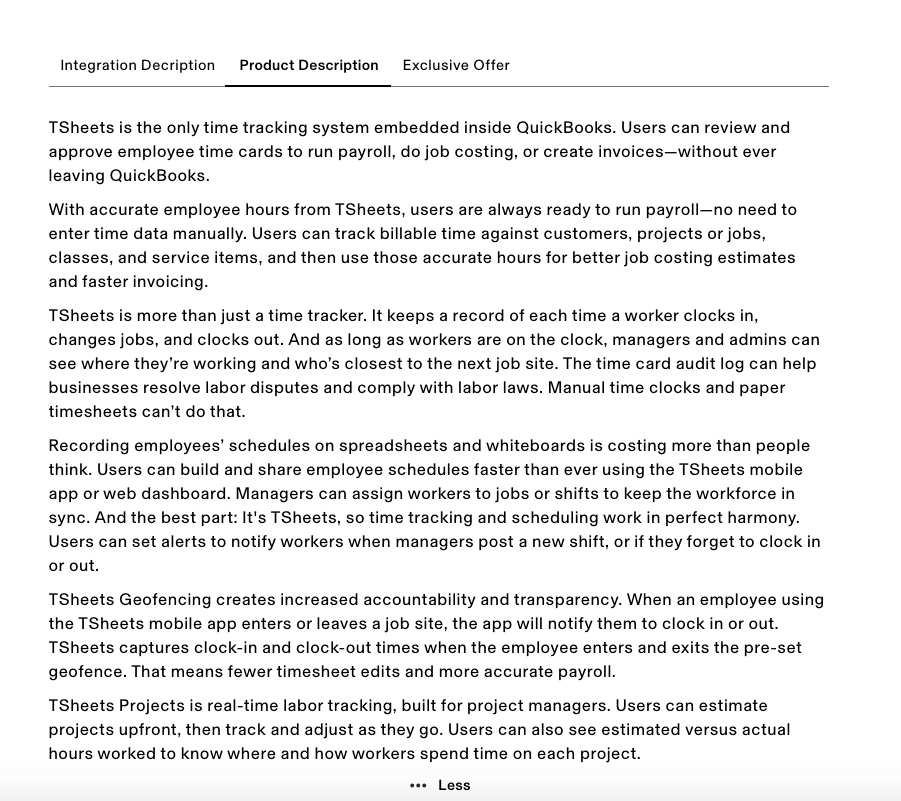 Pricing
When available, Rippling will link to the application's pricing page, to ensure that you have quick access to the most up-to-date information for the application.
Exclusive Offers
When offered, Rippling will provide exclusive offers to third-party applications.

Reviews
Rippling pulls in reviews from G2Crowd, a peer-to-peer review site that provides comparison insights for business software and services based on user ratings.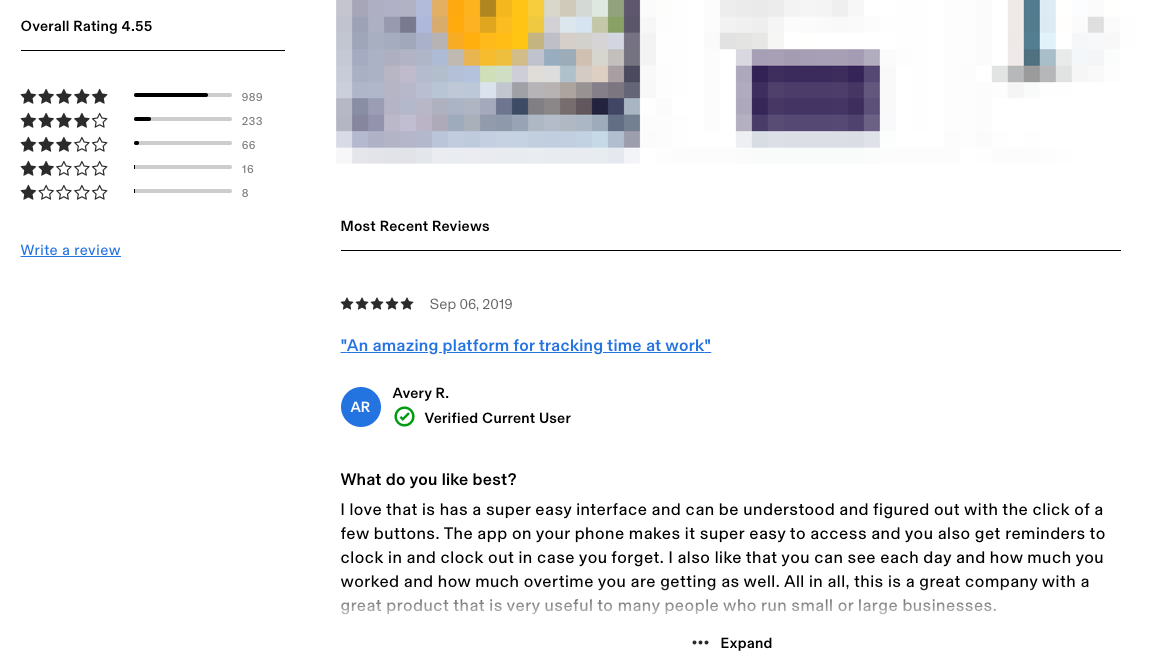 F.A.Q.s
What are 'Beta' applications?
Applications in 'Beta' are often listed as such due to the following reasons:
The application has been released on the App Shop within the last month.
The application is undergoing a feedback phase with selected Rippling users.
The application is undergoing an expansion or engineering evaluation.
Please note, that even when an application is in 'Beta' you are still encouraged to use the application for your organization!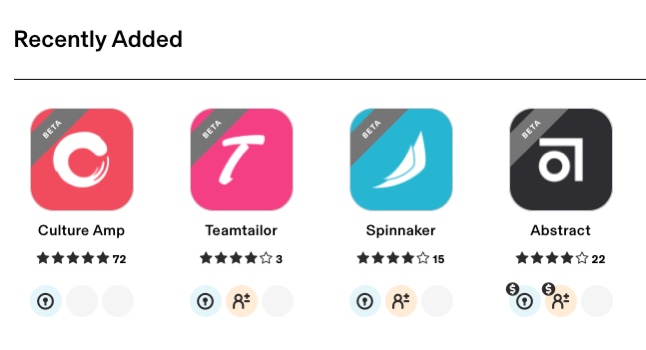 What are 'Rippling's Choice' applications?
Rippling's Choice applications have been evaluated by the Rippling team and selected as services of choice. This is often due to the level of integration with the third-party service and provides an enhanced experience when using the application through the Rippling platform.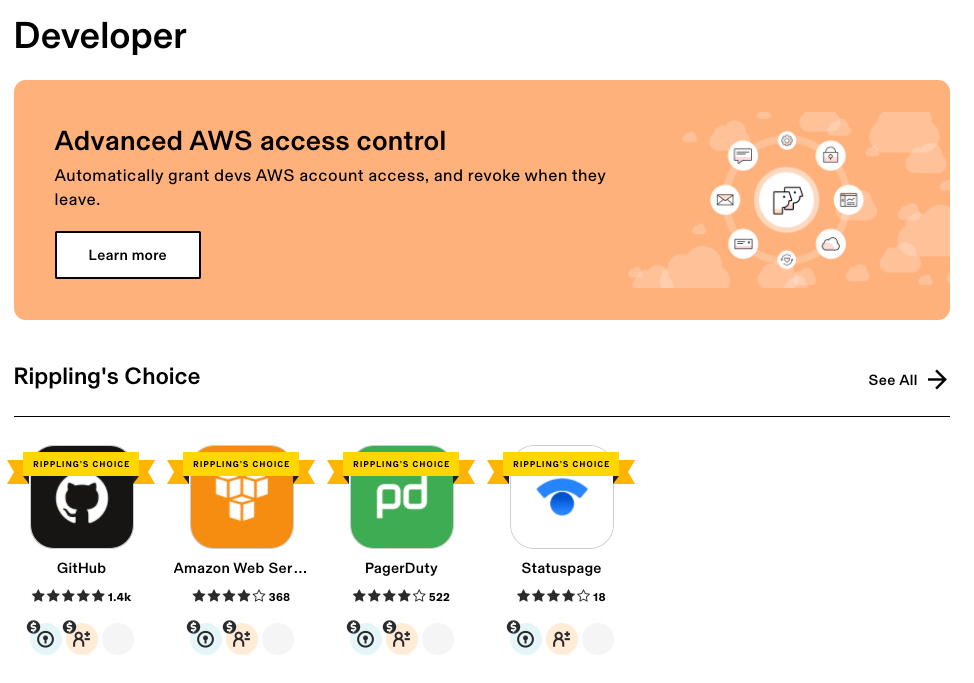 How do I request for a new application to be added to the Rippling platform?
You may request a new application or an application enhancement from the bottom of the main page of the Rippling App Shop. This will link you to a form where you can provide more information regarding the application.
Please note, integrations typically move quicker when the third-party application is encouraging and supportive of the integration. In some cases, third-party applications will not enable any type of integration. For this reason, we highly encourage that you introduce our application partnerships team to the third-party application as well.
How do I request access to an application as an employee?
We understand employees need timely access to the applications they rely on. Admins are able to set up company-wide rules on how employees can request access to third-party applications from their company settings. Application-specific rules can also be set from the application's settings page. If an employee is enabled to request access to applications for your organization, they will be able to do so from the application's profile page in the App Shop.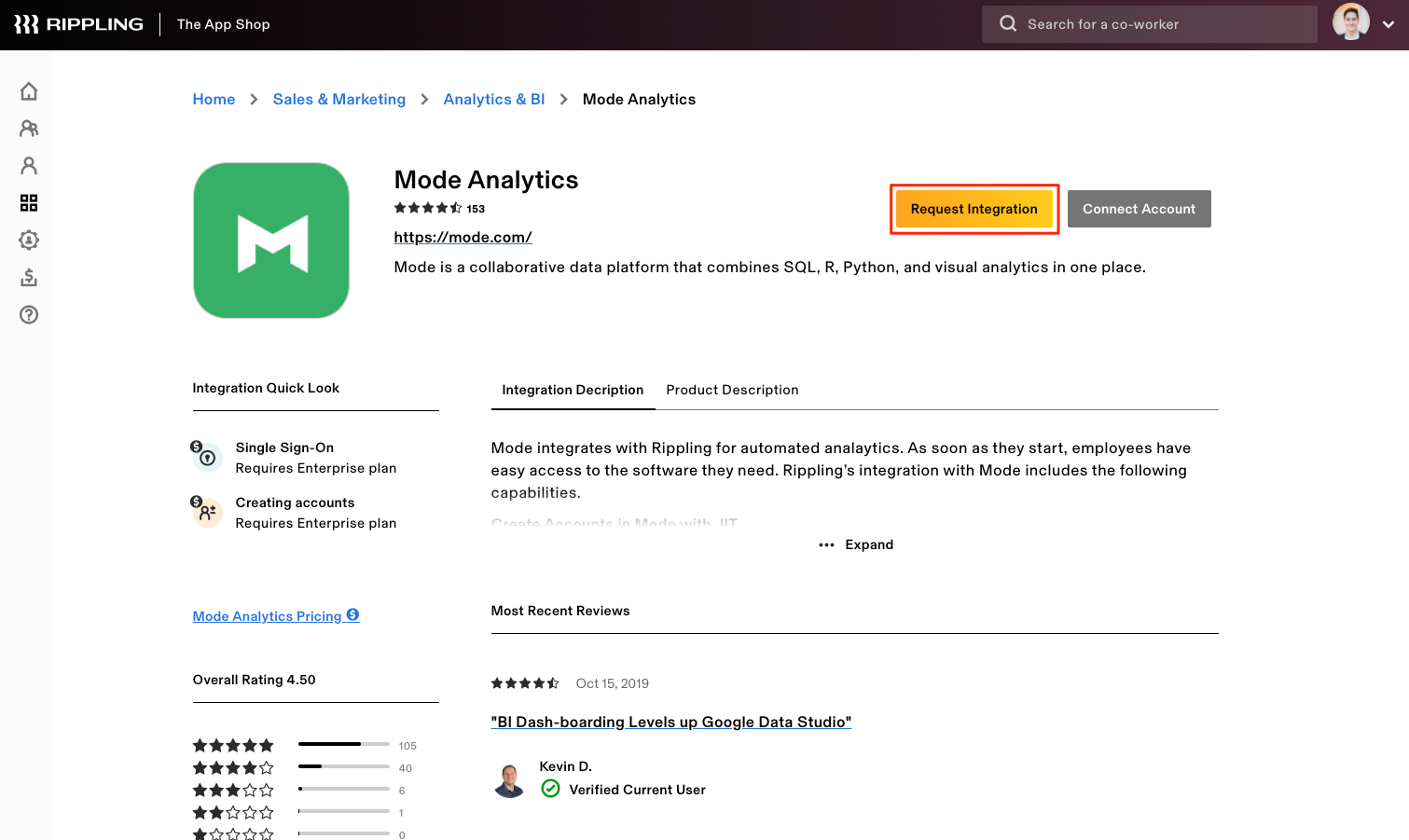 How can I better showcase my application?
Rippling encourages application partners to provide the overview tag line, production description and tailored exclusive offers for the App Shop listing. Additionally, partners have the opportunity to provide media assets, such as photos and videos depicting the user of their product.