With Rippling's Zoom provisioning and SSO integration, mutual users can manage common Zoom administrative tasks through Rippling. Connecting your Zoom account in Rippling allows you to gain access to a number of features such as the creation and removal of accounts; managing Zoom licenses and groups; as well as provide your employees with single sign-on access to Zoom.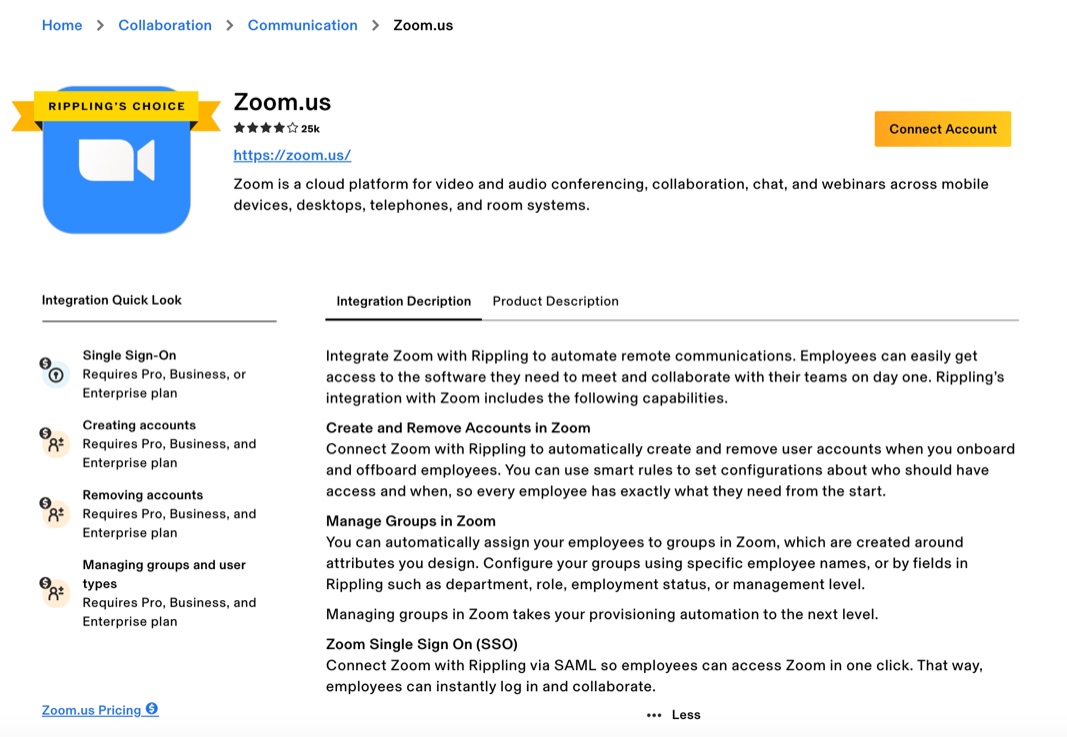 Managing your Connection
How do I set up my connection with Zoom?
To get started, sign in to your Rippling dashboard, click App Shop in the Main Menu on the left side of the page. From the App Shop, search 'Zoom' in the search bar located in the top left of the screen. Once you've arrived at the Zoom application profile within Rippling's App Shop, you can click 'Connect Account' to begin the installation process. Please note, you will be prompted to confirm that you are the Zoom administrator to continue with the installation. If you are not the Zoom administrator, Rippling allows you to easily invite the appropriate user to complete the installation.
Once you've confirmed you're the Zoom admin, you'll be prompted to log in to your Zoom account. The Zoom integration uses OAuth, so you're able to connect the application simply by logging in. Upon entering your credentials, you'll be prompted to allow Rippling to allow access to your Zoom account. This allows you to manage your Zoom account through Rippling.
Configure the provisioning rules for your company's use of Zoom. This configuration determines which users will automatically receive Zoom user accounts when a Rippling account is created on their behalf.
Configure the access time of your default provisioning settings for Zoom. This allows you to define when appropriate user accounts will be created and provided to your employees.
Match your pre-existing employee accounts in Zoom with your corresponding employee accounts in Rippling. In some cases, Rippling's matching algorithm will not be able to identify an exact match. If this occurs, you should match your pre-existing Zoom accounts with the corresponding employee accounts in Rippling.
Add your employees, or groups of employees, to your Zoom groups and user roles. Groups can be pre-created from directly within Zoom, and there are a number of pre-defined user roles that Zoom provides. Please exercise caution when you are assigning individuals to groups in Zoom, as any group changes in Rippling will take place in Zoom as well. Zoom user roles are associated with underlying licenses. While Rippling does not currently purchase licenses on our customer's behalf, Rippling will allow you to assign your organization's purchased seats to your Rippling employees. Please note, you can also manually synchronize your groups here to retrieve the latest accounts from Zoom to associate with your Rippling groups. To differentiate between Zoom Groups and Zoom User Roles, you may visit your Zoom Organization's account. From the user management tab, select 'Group management' to view your Groups.
Once you've appropriately matched your accounts, the API-provisioning integration set up will be complete. You will then be prompted to walkthrough the SAML SSO set up flow, if you wish to enable single sign-on for your organization. If you do not wish to enable SAML SSO, scroll to the bottom and select "I'll do this later".
How do I disconnect my connection with Zoom?
To disconnect your Zoom account, please access your Zoom application page. On your Zoom application page, select 'Installed' in order to get to your Zoom configuration settings.
Please select 'Settings', and navigate to 'Manage App Accounts'. Once you are on this tab, select the trash icon in order to disconnect your Rippling account from Zoom. Please be certain that you have disabled the requirement for your employees to sign-in through Rippling, prior to disconnecting your account.
Managing Licenses
How does Rippling manage my licenses in Zoom?
As part of Rippling's Zoom integration, Rippling customers can manage their Zoom account groups to ensure the proper employees have access to the appropriate Zoom account tier. Company Zoom Admins are able to specify specific rules for which individual employees or groups of employees have access to these account tiers.
For instance, you can assign your company's managers to each have access to a corporate account. You can also assign these licenses to specific employees or groups of employees based on their work location or department. These licenses will still be paid for and controllable from you Zoom admin account.
For more information regarding Zoom license features and pricing, please visit here.
You are able to assign and deassign the licenses that you have purchased within Zoom. However, you cannot purchase new licenses directly from Rippling. To unassign Zoom licenses, simply remove that employee or group of employees from the appropriate licensing group. To assign Zoom licenses, add them to the license group.
Integration Details
Rippling integrates with Zoom as a SAML single sign-on integration, as well as an OAuth, API-based provisioning integration.
How often does Rippling sync employee information with Zoom?
Every 24 hours at approximately 1:30am PST, unless a company admin, selects 'Sync'.
Can I disable only SSO, but not the entire Zoom integration?
To disable SSO, your organization admin can change the configuration of their SSO setting from directly within the Zoom admin user interface. In order to fully remove the SSO configuration from Rippling, you should then uninstall and reinstall the application to ensure Rippling updates your SSO settings to prevent users from trying to sign in to Zoom from Rippling.