Overview
With Rippling's custom Greenhouse integration, employers can create and remove employee accounts, provide single sign-on for their employees, and import candidate information from Greenhouse directly into their Rippling accounts. Importing Greenhouse candidates means that once you've hired a candidate, their information is automatically populated in Rippling. This leads to more automation and less room for mistakes.
Integration Features: Creating Greenhouse accounts, removing Greenhouse accounts, Importing candidate data, Employee single sign-on.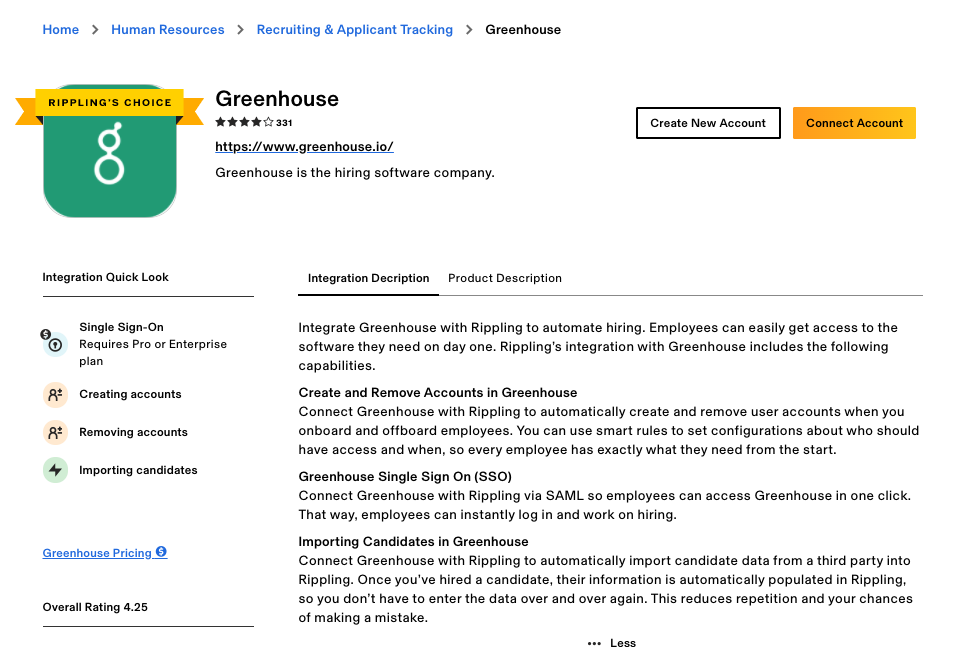 Managing Your Connection
How do I set up my connection with Greenhouse?
To get started, sign in to your Rippling dashboard, click App Shop in the Main Menu on the left side of the page. From the App Shop, search 'Greenhouse' in the search bar located in the top left of the screen. Once you've arrived at the Greenhouse application profile within Rippling's App Shop, you can click 'Connect Account' to begin the installation process. Please note, you will be prompted to confirm that you are the Greenhouse administrator to continue with the installation. If you are not the Greenhouse administrator, Rippling allows you to easily invite the appropriate user to complete the installation.
Once you've confirmed you're the admin of your Greenhouse account, you will be asked to select which Greenhouse organizations that you would like Rippling to synchronize with. Please ensure you select the appropriate organizations for your Greenhouse account.
You will then be prompted to create an API key that will enable Rippling to connect to your Greenhouse account. To do this, you will need to follow-up the setup instructions within the Rippling installation wizard and generate an API key with the following permissions.
Configure the provisioning rules for your company's use of Greenhouse. This configuration determines which users will automatically receive Greenhouse user accounts when a Rippling account is created on their behalf.
Configure the access time of your default provisioning settings for Greenhouse. This allows you to define when appropriate user accounts will be created and provided to your employees.
Match your pre-existing employee accounts in Greenhouse with your corresponding employee accounts in Rippling. In some cases, Rippling's matching algorithm will not be able to identify an exact match. If this occurs, you should match your pre-existing Greenhouse accounts with the corresponding employee accounts in Rippling.
Once you have completed the API integration with Greenhouse you will additionally have the option to enable SAML-based SSO for your integration as well. This will allow your users to access Greenhouse with single sign-on from Rippling. If you decide to add the SSO configuration, please follow the guided wizard installation.
How do I disconnect my connection with Greenhouse?
To disconnect your Greenhouse account, please access your Greenhouse application page. On your Greenhouse application page, select 'Installed' in order to get to your Greenhouse configuration settings.
Please be certain that you have disabled the requirement for your employees to sign-in through Rippling from the Greenhouse SSO configuration, prior to disconnecting your account. Once you have disconnected the SSO requirement from Greenhouse, select 'Settings', and navigate to 'Manage App Accounts'. Once you are on this tab, select the trash icon in order to disconnect your Rippling account from Greenhouse.
How do I use the Greenhouse integration?
As an admin, you will use the Greenhouse integration from two locations.
First, the Greenhouse integration's settings page allows you to manage your Greenhouse accounts for your employees. You can determine who can access your organization's Greenhouse account and match your employees with pre-existing accounts in Greenhouse.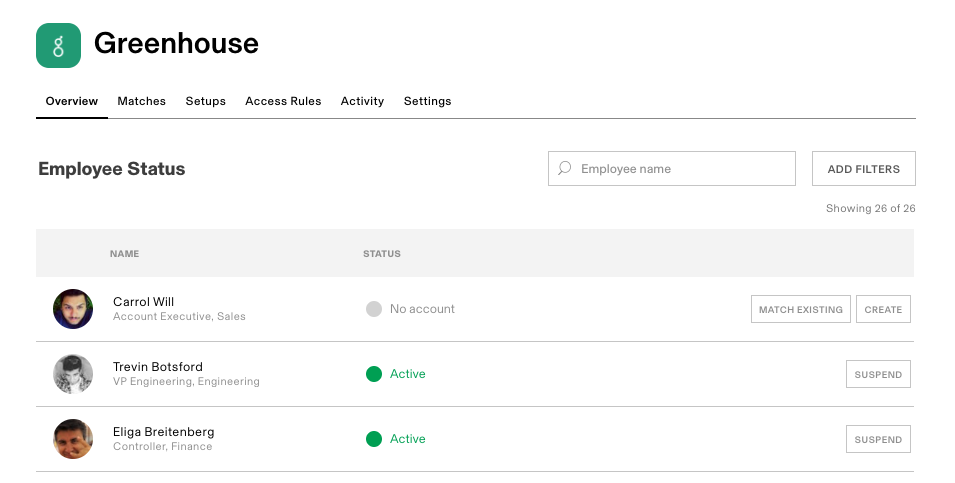 An additional use of the Greenhouse integration is directly within the Rippling onboarding flow. Greenhouse users that have installed the integration within Rippling may directly import candidates from Greenhouse on demand.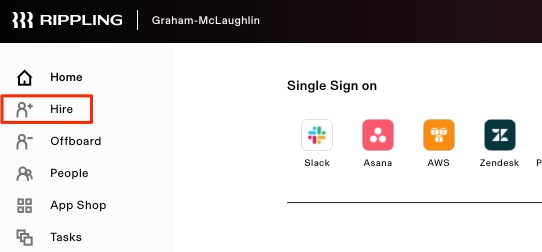 To import a candidate, begin by going through the traditional hiring flow. Then, when prompted, select that you would like to hire someone from your ATS.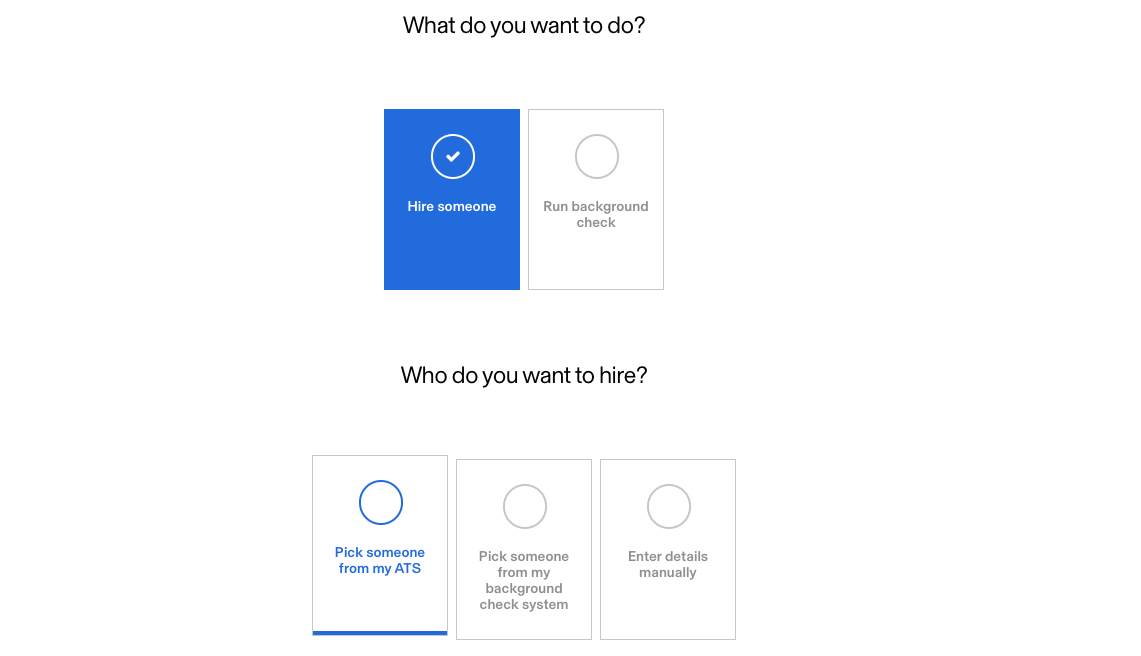 Any potential hires within your integrated ATS's will be provided from a dropdown list that you can then input into your hiring flow.

Integration Details
Integration Type: The Greenhouse integration connects to Rippling for API-based provisioning, de-provisioning, and candidate importing using scoped API keys. The integration also supports SAML-based single sign-on.
Data Pushed to Greenhouse
First Name
Last Name
Email
Data Pulled from Greenhouse
Candidate Details
Phone Number
Email Address
Job Title
Photo
Offer Details
Offer Start Date
Salary
Signing Bonus
Job Details
Employment Time (i.e. Full-time, Part-time, Contract, etc)
Job Title
Job Location (Name of the location must match in both Greenhouse and Rippling)
Department (Namer of the department must match in Greenhouse and Rippling)