15Five is the leading performance management solution dedicated to creating highly engaged and passionately fulfilled workforces. Their evidence-based solution works to deepen the connection between employees, managers, and peers by empowering transparency, meaningful conversations, and effective feedback.
The Rippling and 15Five integration connects the Rippling employee management system with 15Five's performance management platform. With the integration, you can manage and monitor the continuous feedback and performance of your employees all from within Rippling.
Managing the Integration 
How do I install the Rippling 15Five integration?
Please note, you need to be a Rippling admin in order to set up this integration.
To get started, sign in to your Rippling dashboard and click App Shop in the Main Menu on the left side of the page. From the App Shop, search '15Five' in the search bar located in the top left of the screen. Once you've arrived at the 15Five application profile within Rippling's App Shop, you can click 'Connect Account' to begin the installation process.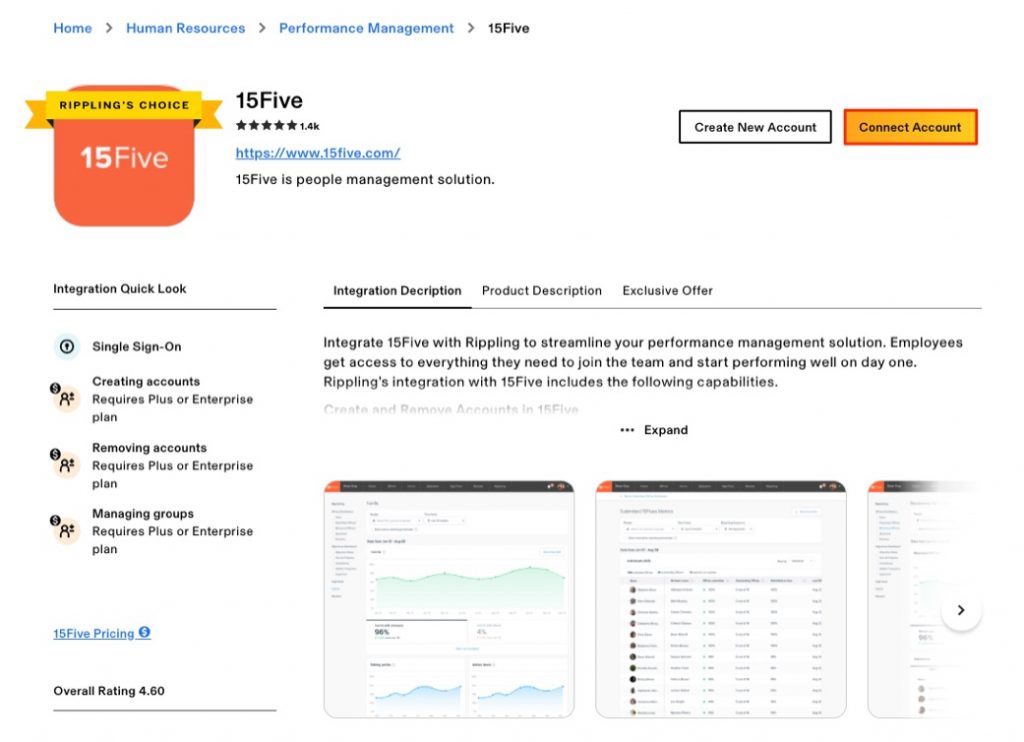 Please note, you will be prompted to confirm that you are the 15Five administrator to continue with the installation. If you are not the 15Five administrator, Rippling allows you to easily invite the appropriate user to complete the installation.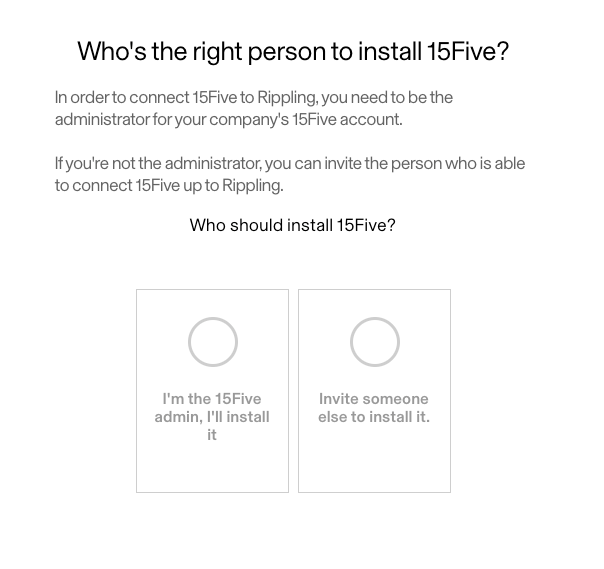 Once you've confirmed you are the account admin, you'll need to provide the API key from your 15Five account.
To located your API key, sign-in to your 15Five account as an admin and select 'My account'.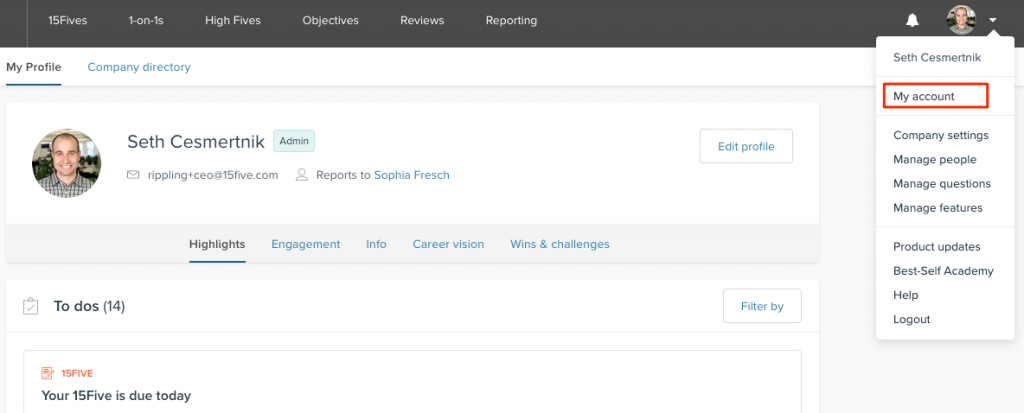 On your account page, navigate to 'Integrations'.

Once on the Integrations page, select 'Configure' directly across from 'Public API'.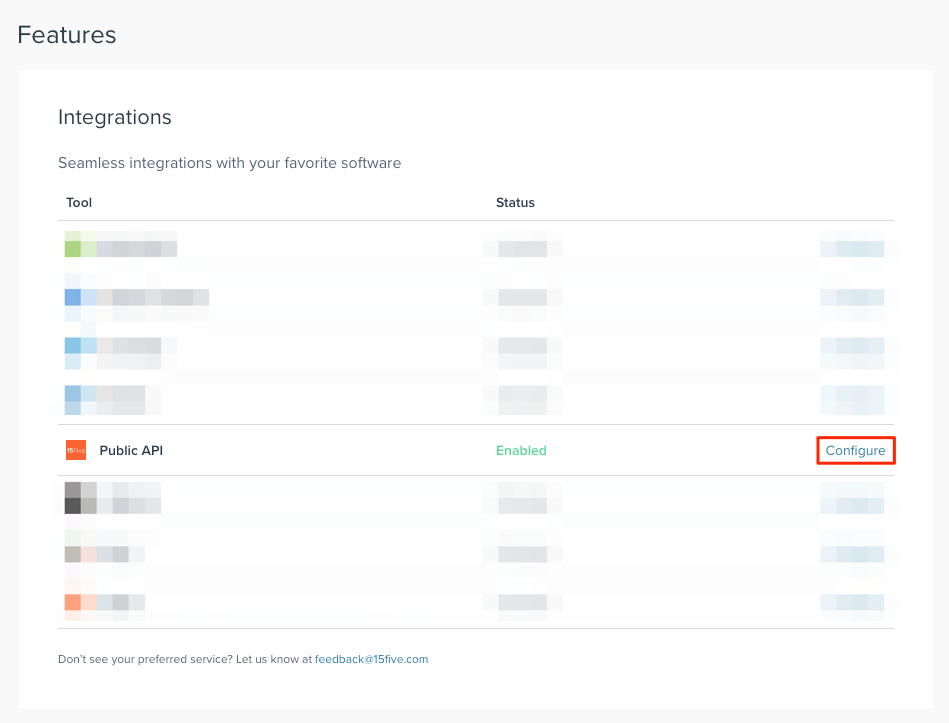 From here, you'll be able to Create a new key and provide it within the Rippling installation instructions.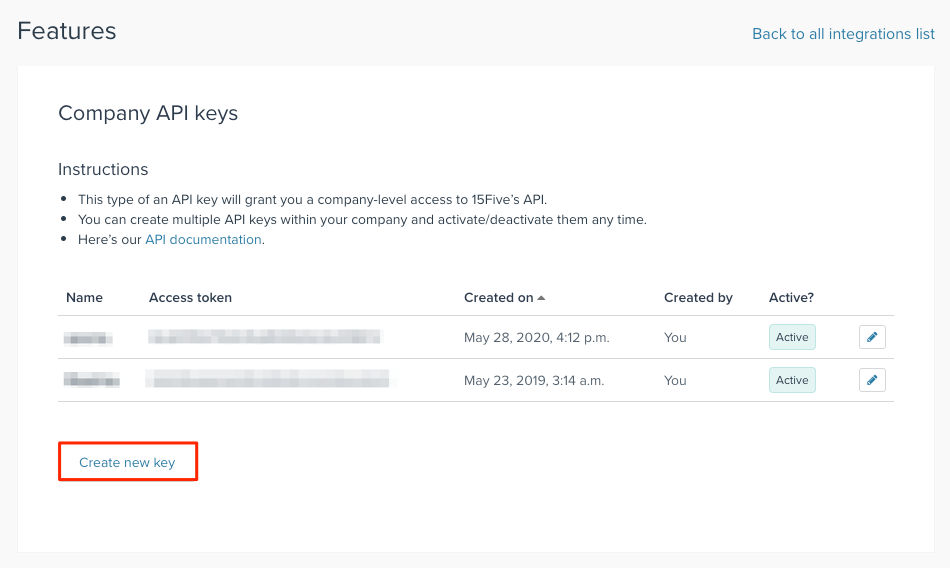 Please note, that you will only be able to pull particular review cycles if the API key owner is a review admin.
Once you have properly inputted your API key, you will be prompted to import performance data from 15Five. You must select 'Yes', if you wish to use the 15Five integration directly within Rippling. If you select 'No', you will still be able to use the provisioning aspect of the 15five integration.
Now that the connection is established with 15Five, you will configure the provisioning rules for your company's use of 15Five. This configuration step determines which users will automatically receive 15Five user accounts when a Rippling account is created on their behalf.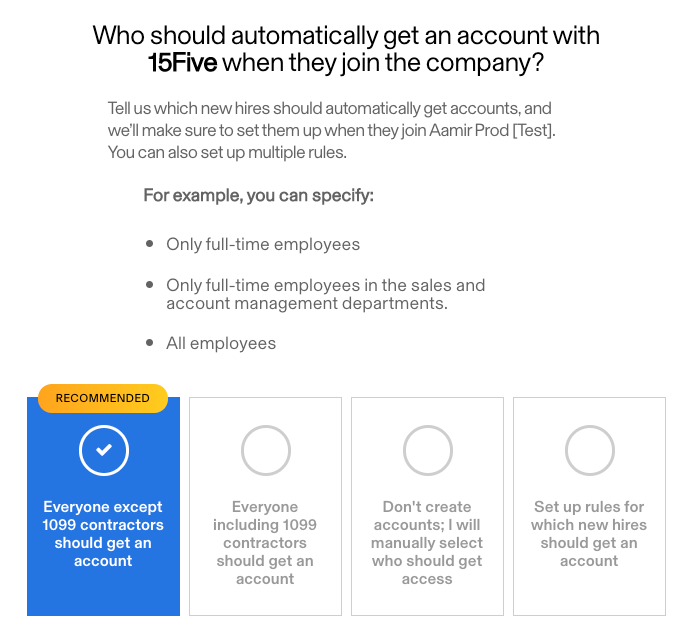 Configure the access time of your default provisioning settings for 15Five. This allows you to define when appropriate user accounts will be created and provided to your employees.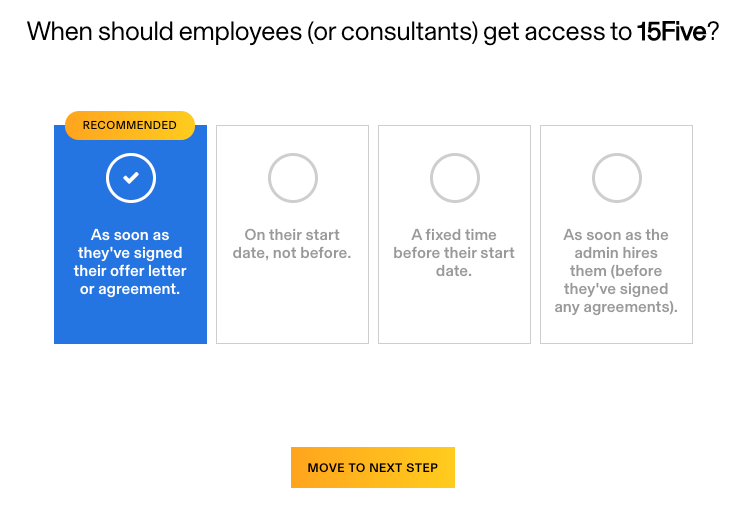 Match your pre-existing employee accounts in 15Five with your corresponding employee accounts in Rippling. In some cases, Rippling's matching algorithm will not be able to identify an exact match. If this occurs, you should match your pre-existing 15Five accounts with the corresponding employee accounts in Rippling.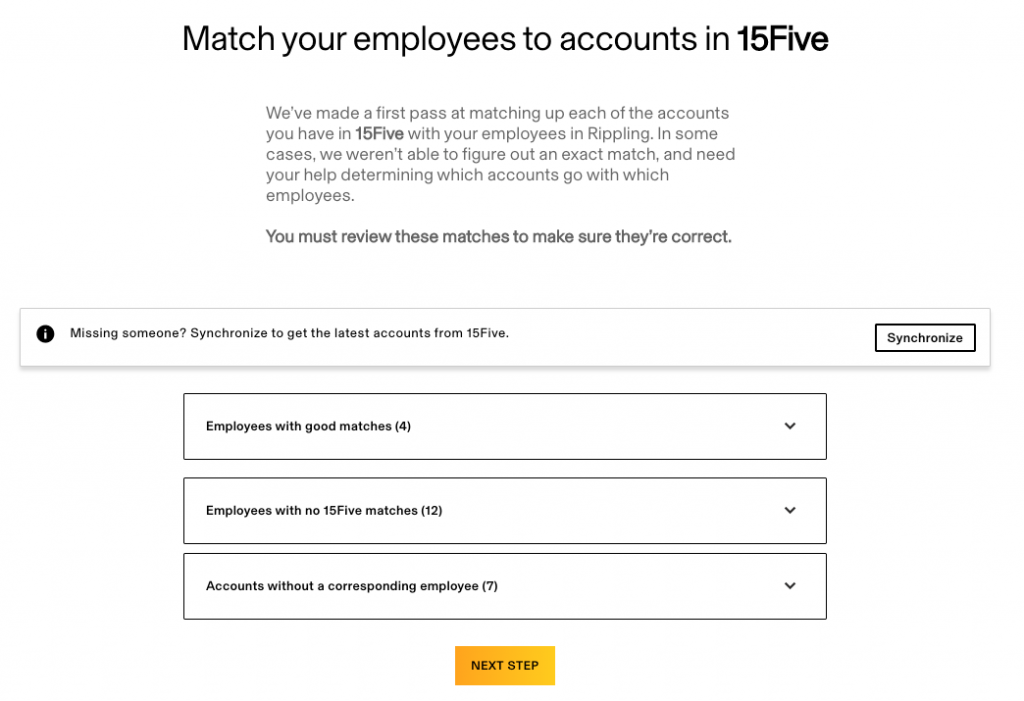 Add your employees, or groups of employees, to your 15Five groups. Groups can be pre-created from directly within 15Five. Please exercise caution when you are assigning individuals or Rippling groups to groups in 15Five, as any group changes in Rippling will take place in 15Five as well. Please note, you can also manually synchronize your groups here to retrieve the latest accounts from 15Five to associate with your Rippling groups.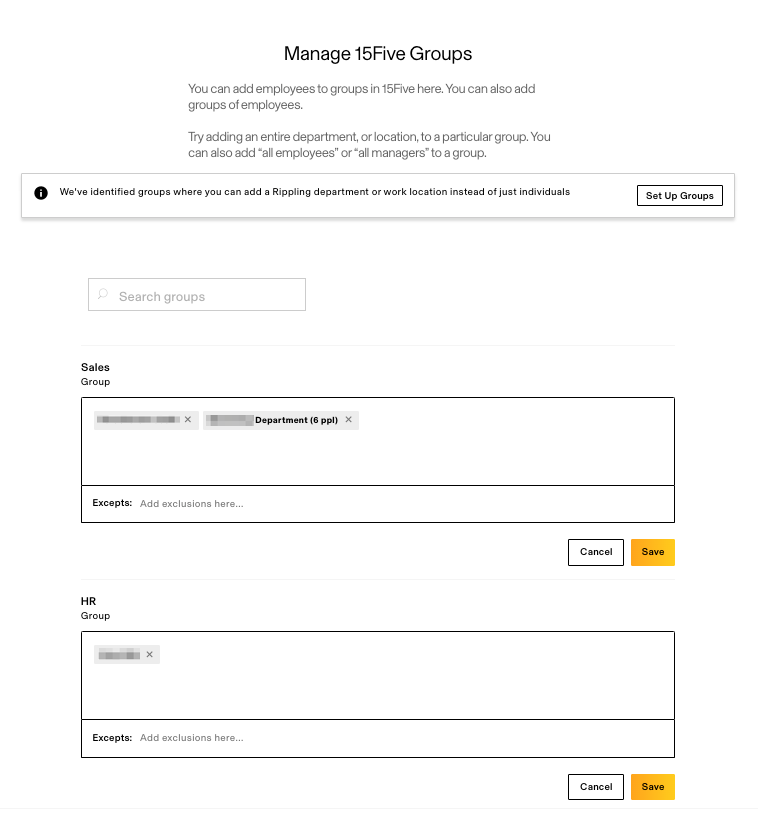 Now that you've set up your API connection to 15Five, you will have the opportunity to set up SAML single sign-on for your employees as well. If you'd prefer to not set up SAML, you can select 'I'll Do this Later' in the bottom right corner. Please follow the SAML instructions on screen in order to configure SAML for your account.
15Five normally requires their Enterprise package for Single Sign On (SSO), but Rippling customers can access this feature for free.
If you decide to enable SAML for your 15Five account, it is strongly recommended that you require your employees to only use single sign-on to access the account. To do this, please proceed to the 'Single Sign-on' tab in 15Five under My Account. Underneath 'SAML Single Sign-On', please select 'Details'. From here, check 'Allow Password Sign In' to off. This will enforce your employees to sign in to 15Five through Rippling and is generally a good security practice for SAML-enabled applications. Please ensure that you have tested your SSO configuration before enabling this to ensure that you're not locked out of your account.
How do I enable the Rippling 15Five integration for performance data?
To enable the Rippling 15Five integration for performance data, please select the 15Five dashboard and go to the 'Settings' tab. Click on the '15Five Options' tab and select 'edit'. Then choose the option 'Important performance data from 15Five' as 'Yes' and click save.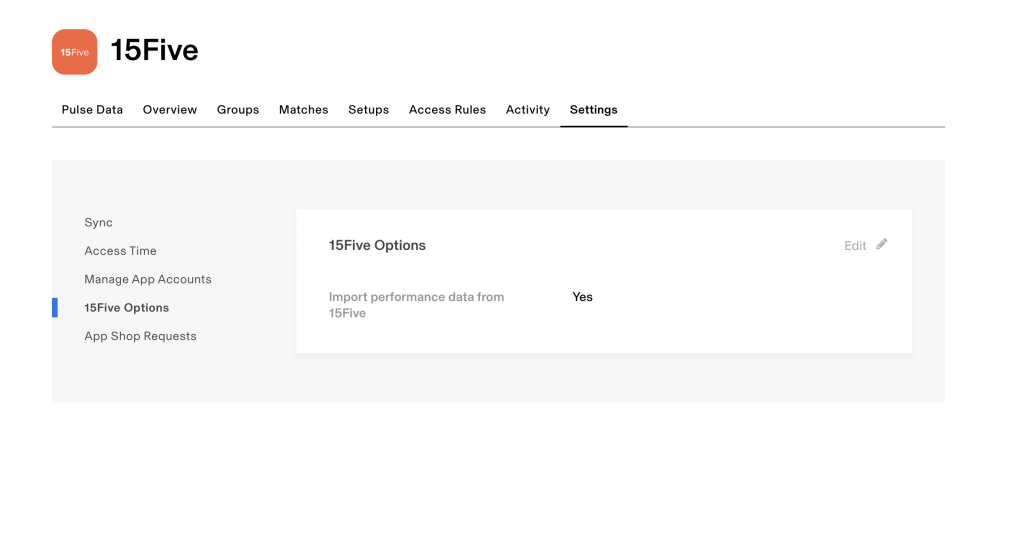 Once users have been matched within the matching page, a new tab titled 'Performance' will be visible in the profile pages of users.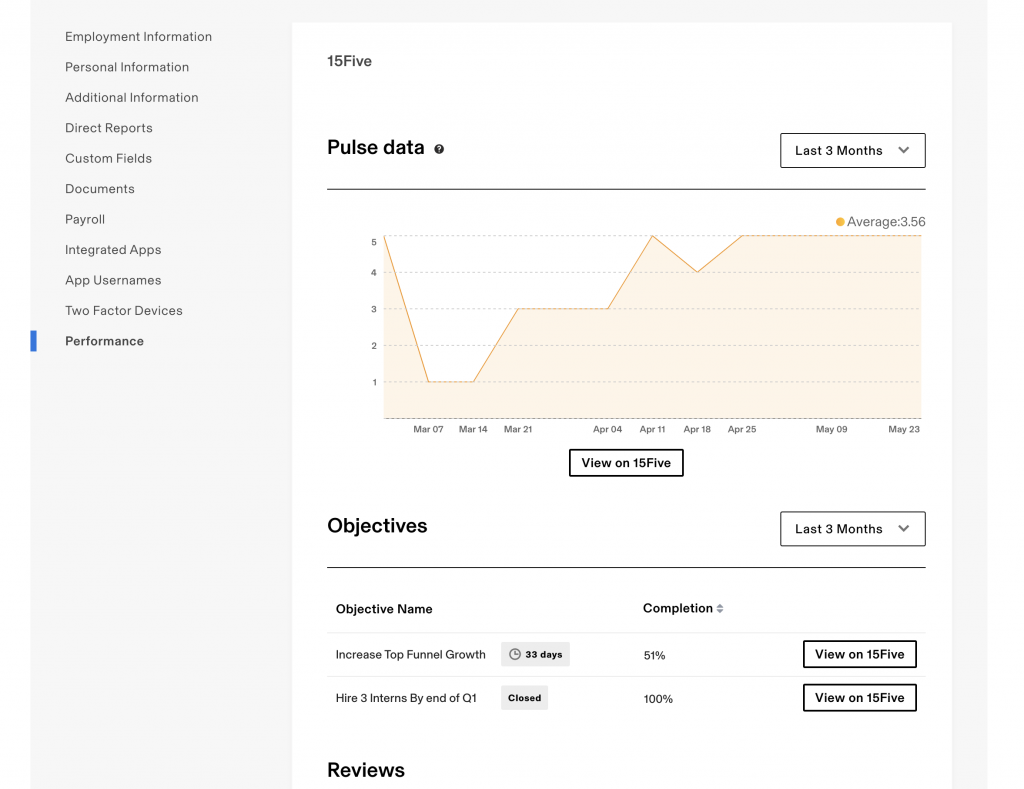 How do I disable the Rippling 15Five integration?
To disconnect your 15Five account, please access your 15Five Application as an admin and select 'Settings'.
From 'Settings', select 'Manage App Accounts' and then click on the trash icon to remove the connection between your accounts.
Using 15Five within Rippling
In addition to auto-provisioning and single sign-on, the integration with 15Five gains your company insights into your employee's pulse information, OKRs, and reviews from within Rippling.
Pulse Data
Pulse data is feedback and employee performance metrics collected regularly in 15Five. Visit your 15five account to manage your companies check-in reporting settings ie. cadence or check-in question. 15Five Pulse data is collected through automated surveys that are sent to your employees providing a 1-5 feedback scale. This information is then viewable in aggregated form for your company from the 15Five application in Rippling under 'Pulse Data'. Only 15Five admins are able to see this information from the application dashboard.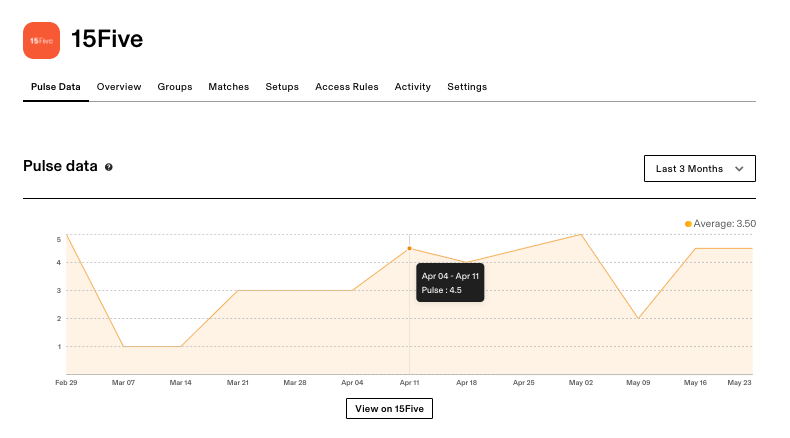 Pulse data is viewable at an individual level from each employees profile, which can be accessed from the 'People' tab as an admin and then selecting on the employee or by selecting 'My profile' as an employee employee.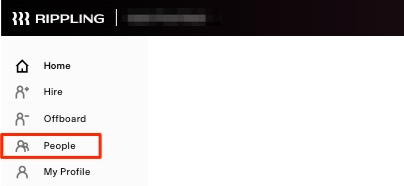 Once on an employee's (if you're an admin) or your own profile page, select '15Five'.  This allows you to view the individuals Pulse data, OKRs, and Review cycles, so long as your are properly permissioned to view this data.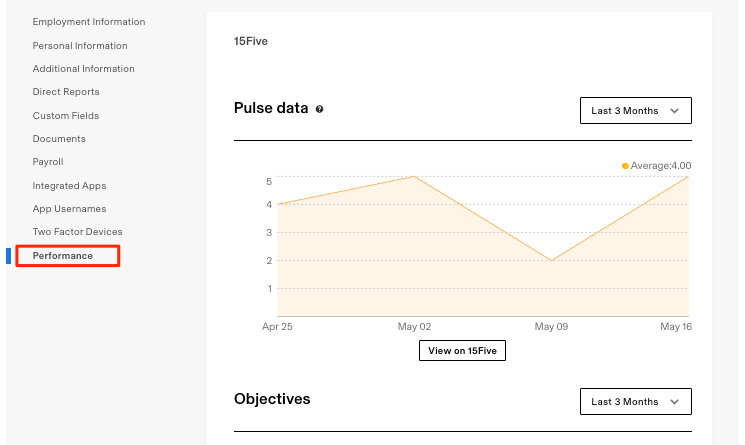 Objectives
Objectives or OKRs are your company's objectives involving this employee within 15Five. These objectives show the time to completion, as well as the completion percentage as marked within the 15Five.

Reviews
Reviews shows the employees Ended, Active, and Upcoming review cycles. The employees are able to view the review cycles they have and the cycle periods associated with each review cycle.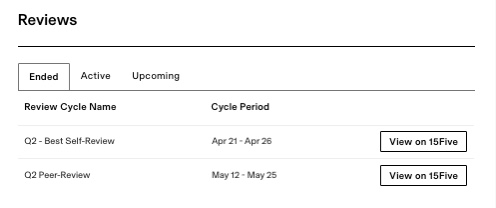 For each data point mentioned, Rippling provides deep links to view the data from directly within 15Five.
Integration Details
How do I create and remove Accounts in 15Five?
Connect 15Five with Rippling to automatically create and remove user accounts when you onboard and offboard employees. You can use smart rules to set configurations about who should have access to which administrative status– and when– so each employee gets access 15five with the correct permissions.
How do I manage groups in 15Five?
You can automatically assign your employees to groups in 15Five, so every team is together. Configure your groups using specific employee names, or by fields in Rippling such as department, role, employment status, or management level.
Managing groups in 15Five takes your provisioning automation to the next level by allowing you to map your teams user accounts to the corresponding access types in 15five.
Rippling does not currently support the direct creation of 15Five groups from this integration.
What information is pushed to 15Five over SAML?
Employee Email
Employee First Name
Employee Last Name
Employee Job Title
Employee Reviewer Email (Manager)
Employee Work Location
Employee ID
What information is pushed to 15Five over API?
Data Pushed to 15Five from Rippling
Rippling Field
15Five Field
email
email
first_name
first_name
last_name
last_name
job_title
title
pushState
is_active
manager_email
send_welcome_from
employee_id
employee_id
manager_email
review_email
work_location.nickname
location
Review Data Pulled from 15Five to Rippling
Rippling Field
15Five Field
all_participants
participants
spokeId
user_details.id
review_id
review_id
review_start_ts
cycle_start_ts
review_end_ts
cycle_end_ts
description
name
status
status
Objectives Data Pulled from 15Five to Rippling
Rippling Field
15Five Field
spokeId
objective_id
status
is_active
end_ts
end_ts
start_ts
start_ts
description
description
objectiveCompletePercentage
percentage
Pulse Data Pulled from 15Five to Rippling
Rippling Field
15Five Field
spokeId
pulse_id
created_ts
reporting_period_end
pulse_value
value
su_spoke_id
user
Who is able to view what data?
| | | | |
| --- | --- | --- | --- |
| Type of Data | Which fields are used by Rippling | Where in Rippling is it shown? | Who can view the data? |
| Individual pulse data | The value and create_ts of all pulses | Profile page | Self, and admins with permission to view sensitive data |
| Individual's objectives | The description, percentage, is_closed, start_ts, and end_ts of any objectives with scope='individual' | Profile page | Self, and admins with permission to view sensitive data |
| Individual's review cycles | The name, cycle_start_ts, cycle_end_ts, status of review cycles, and number of completed reviews for individual. Does NOT include contents of actual reviews. | Profile page | Self, and admins with permission to view sensitive data |
| Aggregate pulse data | Pulse values averaged over the whole company, or filtered by department, location, etc. In practice, the user may be able to filter down to showing only a single person's pulse data. | Rippling 15Five Application | Admins with permission to view sensitive data |
How and when does data syncing occur?
All data fields are synced on any update to a user. Daily data syncing occurs at approximately 1:30am pst, but manual syncs can be triggered from directly within the Rippling 15Five Application at any time.